Hi,
Between woodworking magazines, boatbuilding magazines, and all the forums and books in between, I think I've encountered every bit of advice concerning uncooperative woods like oak and teak... Here's my experience gluing both together with one massive caveat -- these
are
difficult woods to glue -- use fasteners whenever possible -- and exceptional care... Alrighty then, here's my test project...
For years I've been messing with rope work, knots, etc... When the wife made the sail for Teal, I made her a ditty bag complete with fids, etc... Of course, that bag has been lost to the sands of time, so I finally made a new one. The fids were easy -- just scrap cherry... But as for the full marlinspike, I had to laminate and turn both white oak and teak to the tune of three layers totaling 2.25" by 16"... Observations follow...
* Only use epoxy properly applied... If possible, use an epoxy specifically designed for woods like oak and teak... I didn't have that option -- I used old U.S. Composites... And for heaven's sake, only use the filler recommended by the manufacturer... The last thing a challenging glue up needs are home-made fillers.
* First, make sure you're dealing with thoroughly dry wood -- no green stuff here... That out of the way, sand and and clean the mating surfaces thoroughly... Once surface prep is done, scuff the glue area with coarse sandpaper and clean again.
* Next,
saturate
all mating surfaces with unthickened epoxy. Apply multiple coats until the wood just can't absorb anymore... See below...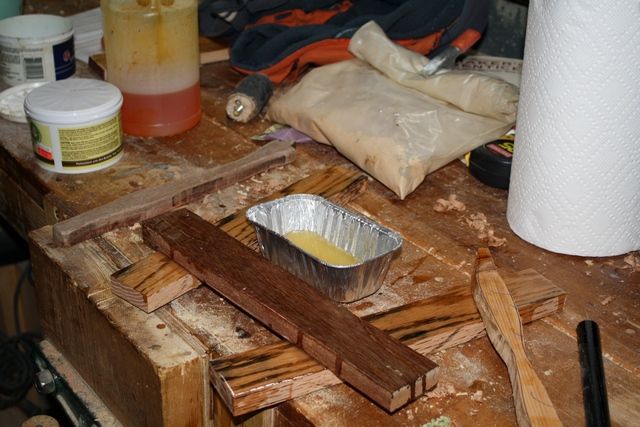 * That done, thicken the epoxy in the pot with the proper filler to the consistency of a stiff peanut butter, and slather that on... Don't be cheap... Now, do everything in your power to align all parts and clamp with
moderate
pressure. (Epoxy is so slippery that if you pretend to be Superman, you can squeeze all the goo out and create a weak, starved joint.. )
* Now, let it sit... IMHO, the manufacturer's recommended cure time is short by several days to a week or more... When possible, I like to give epoxy at least a hands-off week...
* Here's the oak/teak/oak blank prepped for the lathe... (
Heavy!
)
* And the final result... (Note those nice uniform glue lines...)
Looking back, the epoxy held like a champ... At times, the old Duracraft 12" lathe was reelin' and a rockin'... The RPMs varied from 575 RPM to 1,560 RPM... But the glue showed no signs of failure... Still, a full face mask is a wonderful thing.
So woods like white oak and teak can be glued, even together, but I'll only use epoxy... And hopefully, the next time I have to do this, I'll buy epoxy specifically formulated for these tyes of wood...
Hope this helps...
Alan